We're Looking Forward to Caring for You
It is time once again for Memorial Healthcare System's Report to Our Community – a recap of our most recent fiscal year (May 1, 2016-April 30, 2017) to patients, families, volunteers, employees, physicians and the community we're privileged to serve.
As healthcare undergoes dynamic change, Memorial has maintained its solid position as a leader in outstanding patient- and family-centered care delivered in a fiscally responsible manner. We have continued to make significant strides in the areas that already distinguish us as a local, regional and, now, national leader: safety, technology, collaboration, teamwork – and a workplace culture admired for its commitment to provide care that's second to none.
In this year's Report, you'll find updates on:
Our new technologies – We're using a wide range of leading-edge equipment and tools to help enhance the entire Memorial Experience: online scheduling, check-in kiosks, linked electronic health records, cameras in the Neonatal Intensive Care Unit, bionic legs and telemetry for rehab patients, and the latest in nuclear imaging – just to name a few.
Our strong partnerships – Every day, we work with physicians – whether with our 250+ members of Memorial Physician Group, or with the members of Memorial Health Network, who now care for more than 100,000 covered patients – to maintain and improve our high standards of quality and to share great ideas.
Our commitment to safety – Memorial is linking our electronic medical records, spearheading initiatives such as hand hygiene, and using palm scan systems to confirm patient IDs – to help preserve and enhance the safe environment that patients, families and providers deserve.
Our culture of caring – Developed over many years, Memorial's culture is admired for its transparency, teamwork and trust. It is based on a deep commitment to patient- and family-centered care and has earned us recognition from experts on workplace and healthcare excellence – including Joe DiMaggio Children's Hospital's recent designation from Planetree as the world's first, and only, person-centered children's hospital.
We have not just the skills, empathy and compassion but also the financial strength we need to move confidently into the future – and add services that we might not even be imagining today. In the meantime, please enjoy this Report on our progress to date, and thank you for supporting us in our goal to provide deeper caring and smarter healthcare.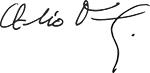 Aurelio M. Fernandez, III, FACHE
President and Chief Executive Officer

Laura Raybin Miller
Chairman of the Board