Consulting a Physician from Virtually Anywhere
Technology is changing lives, and MemorialDocNow is expanding the ways people are receiving their healthcare.
Rolled out in March 2016 to Memorial employees enrolled in Memorial's health plans, MemorialDocNow is an online service that lets participants virtually visit with a doctor affiliated with Memorial, Joe DiMaggio Children's Hospital or American Well's Online Care Group.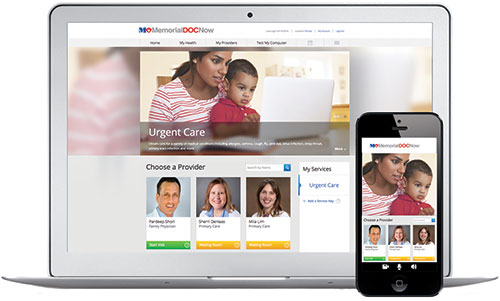 Participants can consult with a board-eligible physician around the clock for:
General health consultations
Non-emergency urgent-care issues
Doctors are able to:
Diagnose
Recommend treatment
Prescribe medication
Within three months of launching, MemorialDocNow reported more than 2,800 enrollments, surpassing the program's goal of enrolling 10 percent of the total 23,000 employees and dependents covered by Memorial Managed Care Plan (MMCP) and Memorial Consumer Health Plan (MCHP). The service is free to those covered in Memorial's health plans in 2016.
Next steps – scheduled for fall of 2016 – include offering virtual visits to the following groups at $49 per visit:
Memorial employees who are not enrolled in Memorial health plans
Patients and healthcare consumers in the community