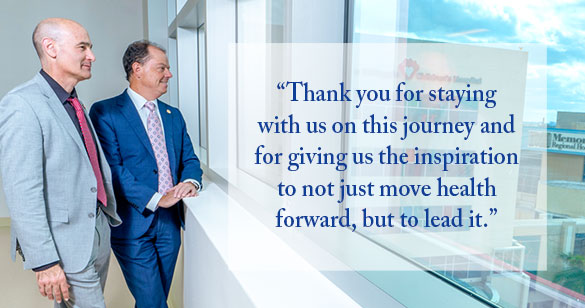 LEADING
HEALTH FORWARD
Greetings from all of us at Memorial Healthcare System — our Board and all 16,645 members of the Memorial family — as we mark a significant year of accomplishment. This Annual Report covers advancements Memorial has made over the most recent fiscal year (May 1, 2022, through April 30, 2023) and gives you a preview of the exciting ways we're leading healthcare into the future. In many ways, that future is already here.
Even before the COVID-19 pandemic, we were changing the ways we delivered healthcare. In recent years, we laid the foundation to move from treating patients only when they needed us to playing an active, long-lasting role in the lives of patients and families. We wanted to be their partners in improving and maintaining their health and well-being. The pandemic paused some of those efforts and accelerated others, but as you'll see in this report, we are well on our way to becoming and remaining that trusted partner.
We're doing that by focusing on four major areas, which you'll see discussed further in these pages:
Culture and Mission – Our nationally recognized workplace culture, developed over 70 years of serving as a public, community-based system, uniquely positions us to be a 360-degree provider for long-term health
Workforce Development – We are making great strides in attracting, training and retaining highly qualified medical staff and clinicians, with the skills and expertise to provide person-centered, proactive healthcare services through the year 2050 and beyond
Strategic Partnerships – Our growing linkages with other providers and community organizations are expanding our presence and reach, and elevating the services we can provide
The Memorial Experience – Our reputation for clinical excellence and compassionate care, combined with our Primary Care network, are powering us past disruptors in the market and offering healthcare consumers what they want: care that's evidence-based, timely, convenient and comprehensive
The results we've seen so far — and will continue to see in the years to come — demonstrate that Memorial is back to the work that we're known for doing so well: pursuing everyday excellence and constantly striving for operational improvement. A lot of it has been thanks to the ideas and feedback we've heard from our physicians, our employees and members of our community. In that spirit, we hope you read this report with appreciation for the things we've been able to accomplish together.
Thank you for staying with us on this journey and for giving us the inspiration to not just move health forward, but to lead it.

Scott Wester, FACHE
President and Chief Executive Officer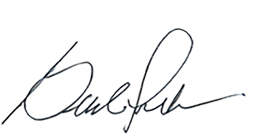 Brad Friedman
Chairman of the Board